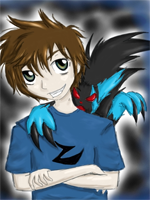 Zerxer is one of the root administrators of GTSPlus and GPXPlus. Along with Big Bidoof, he is responsible for coding the site.
Biographical information
Edit
In real life, Zerxer's real name is Nick and his birthday is August 18th. He is twenty-five years old and lives in Texas, although he is originally from Pennsylvania. His favorite Pokémon was once Zergoose, but now seems to be Bisharp, especially its Shiny variant, which is predominantly blue.
He is also in a romantic relationship with fellow Global Pokédex Plus administrator Jen.
Main article: Novelty Pokémon
As with Commander Wymsy and Big Bidoof, Zerxer has a novelty Pokémon based on him, Zergoose. It is a black and blue recolor of Zangoose with a strong vengeance against noobs.
Azurite Affinity
Edit
The Azurite Affinity seems to correspond to Zerxer, supported by the fact that he himself is an Azurite. The Azurite-exclusive trinket Plush Doll Z also seems to be made in reference to him.
Ad blocker interference detected!
Wikia is a free-to-use site that makes money from advertising. We have a modified experience for viewers using ad blockers

Wikia is not accessible if you've made further modifications. Remove the custom ad blocker rule(s) and the page will load as expected.